Karaoke Sound Tools 2

Remove vocals and voice from a song, adjust key and tempo. Merge or clip karaoke songs.

| | | |
| --- | --- | --- |
| | | |
Karaoke Sound Tools 2 allows you to:
Remove vocals from a song
Change key of a song to better suit your voice
Change tempo of a song to make it easier to sing
Process MP3, WAV, BIN, and MP3G (MP3 and CDG) file formats
Combine multiple tracks to create a karaoke song medley
Clip karaoke tracks to remove dead air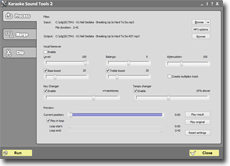 Click to enlarge...
Karaoke Sound Tools 2 is an easy-to-use vocal and voice remover program, music key and tempo changer for audio processing. It contains of three modules:
Process

Vocal remover to remove vocal parts from CD recordings

control the amount of bass and treble processing
remove vocals from non-centered recordings using balance
adjust karaoke song voice removing level and output attenuation
create multiplex tracks (with vocal in the left and instrumental part in the right channel)

Music key changer to adjust a song to singer's voice

change the pitch in the -12 to +12 semitone (half-note steps) range
after processing, music instruments have no chipmunk or time speed up or down, holding the key tempo the same as if the original studio recorded in your key
you can process karaoke songs with lyrics (BIN and MP3G)

Tempo changer to speed up or slow down a song

change tempo of a song from two times slower to twice as fast
our tempo changer tool retains the original key of a song
you can process karaoke tracks with lyrics - they will be adjusted to stay in sync

All these karaoke sound tools can be fine-tuned in real-time, and work with MP3, WAV, BIN, and CDG files.
If you use a karaoke BIN or MP3G file and use our tempo changer, the graphics part of a song will be adjusted so the lyrics are in sync with the slower or faster version of a song. No other software has this feature!


Advanced preview allows to:

listen to the processing result in real-time
control the playback position
play selected part of a track in loop for fine-tuning




Merge

Merge allows to combine several karaoke songs into one medley.

combine any number of MP3+G, ZIP, or BIN files
remove silence (dead air) between tracks




Clip

Clip allows to remove starting and ending part of recording.

process any number of MP3+G, ZIP, or BIN files at once
remove silence (dead air) at the beginning or at the end of a song
remove the beginning of a track and start at the exact moment (this can be used to remove logos or images from songs)



This karaoke software contains tools that other companies are selling separately at extremely high prices, and yet they cannot match the quality and ease-of-use of Karaoke Sound Tools 2.
Do not take our word for it - download the evaluation version now and listen to results yourself.

For the detailed information on how to use our vocal remover, music key and tempo changer, please read online manual.
---
Karaoke Sound Tools 2 costs $49 USD.

Users of original Karaoke Sound Tools can upgrade at the price of $19.
If you own any other our software, you get a $10 discount on your purchase.
With this purchase you get a year of free updates and support.
---

Compatibility
All our software runs on Windows 10, Windows 8, Windows 7, Windows Vista, and Windows XP.